Lead & Lead Stage Definition
The first step to your success is to define "Leads". Why? A clear definition will ensure that you have a common language framework for your organization, and this will serve as the foundation upon which all other aspects of Lead management will be built on and planned for.

We will collaborate with you and your organization to help you align multiple teams (or groups) with this definition to set short- and long-term goals. This process will help us help you create a clear, agreed upon lead stage funnel (or whichever term is best suited for your organization).

Proper alignment between Sales and Marketing will help you successfully convert leads into opportunities, closed won business, and become advocates for your brand.
Our Process
The process of aligning teams may sound daunting, but we will use proven methods by first identifying stakeholders and run discovery sessions to gain perspective on their needs and concerns. These open discussions will help us document any road-blocks (actions or specific teams), identify hidden benefits, and uncover other needs that you may not be aware of. Conversely, we will also uncover hidden fears and concerns. All sides must be understood and heard in order for alignment to occur.

Understanding the interconnectivity and interdependence of all stakeholders is critical in creating internal alignment. Our goal is to help you have an end-to-end process for your leads.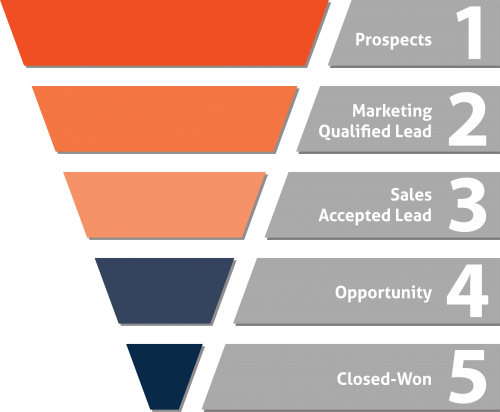 Creating Alignment
What we do ask of our clients is to come to the table with an open mind and willingly participate to achieve the mutual goal – your organization's growth and success.

Part of the process is to identify functions and technologies as stakeholders in the lead management space. The most common are:
Functions:
1. Marketing
2. Marketing Operations
3. Sales
4. Sales Operations
Technologies:
1. Marketing Automation Platform
2. CRM Platform
3. Other marketing technologies as applicable (e.g., Data Append)
After we identify everyone, we will conduct in-person and remote sessions in an interview format to gather and validate data and cross reference this against the expectations of your other team members and teams. This process will also help us set up and define service level agreements (SLAs) that will mutually benefit each of you.

Understand the interconnectivity and interdependence of all stakeholders is critical in creating internal alignment. Our goal is to help you have an end-to-end process for your leads.
Manage the Data Flow
The next phase of our process is to support you by implementing the processes required to meet the newly defined expectations within your marketing technology platform. This phase is the most nuanced because all the details and assumptions need to be validated and optimized. To achieve maximum efficiency, this phase must be thoroughly vetted. Should a decision result in more work than expected, we will take the time to streamline even further to ensure the load is balanced across all stakeholders, without creating any new roadblocks.
Deliverables
We will provide detailed design documentation on paper, run proof of concepts if ever it is required, and obtain complete buy-in of all stakeholders before we execute any actions in your production environments*.

Here is an example of a lead workflow for a company that has three distinct product lines, three sets of business rules for leads related to each product line: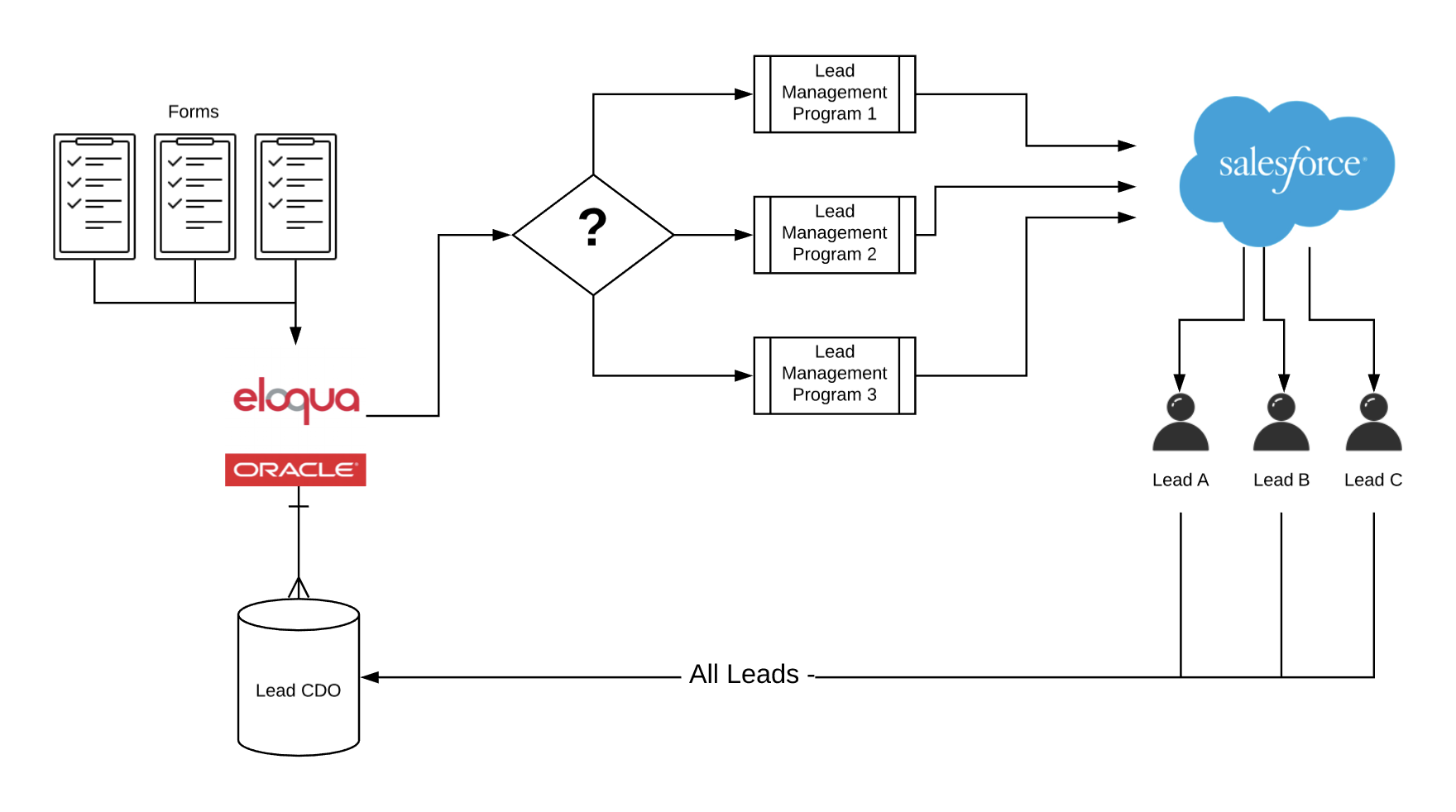 Closing the Loop
Simple concept. Hard execution. Marketing's Holy Grail.

Our approach for closing the loop is to pool data from multiple platforms into one custom database. To achieve this, we will help you identify costs, associate these costs to specific campaign(s), and ensure that the resulting opportunities are linked to the identified campaign(s).

With proper alignment with your organization's stakeholders, we will support you with changing or revising the process in your CRM to enable opportunities to be matched to campaigns, including your non-marketing campaigns that are created specifically for your Sales teams. This is how Closing the Loop is achieved.

Visit our Data & Analytics page for more information about the types of reports and analyses that we specialize in.
TESTIMONIALS
Oracle Eloqua is sold under the premise that marketing people can implement and maintain the system. That being said, a knowledgeable and technological savvy partner is required for a successful implementation. We found Tegrita to be that knowledgeable and technological savvy partner. We use Tegrita for assistance with ongoing technological assistance as well as help with thought leadership and best practices.

John Hynek, Database Marketing Manager, United Federal Credit Union
The Tegrita team helped us get up and running on Eloqua in just three weeks. The implementation process could not have been smoother – the team was extremely organized, highly skilled, and fun to work with. We had a very aggressive timeline and I had complete confidence that partnering with Tegrita would allow us meet to our goals. The team went beyond just implementing software – they helped us strategize, shared best practices, and took the time to truly understand our business. I'm excited to have Tegrita as a long term partner of Fuze.

Emily Ketchum, Sr. Manager, Global Marketing Operations, Fuze
The Tegrita consulting team was very instrumental with helping Congressional Federal Credit Union implement Eloqua during the Smart Start phase. In the finance industry, we capture an abundancy of data that can often be quite complex. With Tegrita's help, we were able to navigate, simplify and extract essential data to effectively develop robust campaigns. The team was patient and flexible during the entire process. I highly recommend using Tegrita Consulting Group for your implementation.

Phoenix Phimmasene, Marketing Manager, Congressional Federal Credit Union
Tegrita has been an integral part of our success in the implementation and deployment of Eloqua for our three different multi-tenant franchisee companies. Without them, I don't think we would have been able to get up and running as quickly as we did. Tegrita took the time to understand our business model and knew we could not have the same type of implementation as other companies. By delving deep into our business processes, we were able to launch and feel safe that the security needed was in place to protect our franchisees.

Meribeth Gunn, President, Summit Marketing Communications
Working with Tegrita was essential to the success of the implementation of Eloqua at SUNY Plattsburgh. Tegritas team was with us from day one, educating us on best practices. Not only were we able to launch two robust campaigns by the end of our SmartStart contract, but we are now able to use the tool ourselves, thanks to their coaching. I recommend that any company or business looking to implement Eloqua as part of their communication strategy partner with Tegrita first.

Catherine Keleher, Director of Marketing, SUNY Plattsburgh