Every season there are fans who raise their hand expressing interest in exploring the option of becoming a season ticket member. Some will inquire while at a game or by submitting a form while others will call in to discuss their options with a sales rep. However, there are a significant number of fans, who for one reason or another, have never considered purchasing season tickets.
For many years, I was one of those fans. I became a die-hard Atlanta Falcons fan when I moved to Atlanta over 20 years ago. Every season, I attended at least one home game, and some seasons I enjoyed traveling with the team. However, in my mind (without ever even asking a friend what it costs), purchasing season tickets was financially out of reach. Although I had attended many fan events and was subscribed to their newsletter, I was never marketed to as a potential season ticket holder.
There are lots of ME's on your list today – the perfect prospect to purchase season tickets (or ticket packages), but you are not reaching out, educating me, or asking me to buy.
For many organizations, the data may be out of reach to sales or marketing for them to do anything with it. Fortunately for Oracle Eloqua customers, Ticketmaster data can easily be brought into Eloqua through either a CRM or Data Warehouse integration. If you are interested in discussing how to make that happen, my people (our Solutions Architect Team) can talk to your people (your CRM or Datawarehouse admin). But let's assume for a minute that you already have access to ticketing data in your Oracle Eloqua database. One opportunity to reach potential season ticket buyers is to identify and market to secondary market single-game buyers.
Why Secondary Market Buyers?
Although some patient secondary market buyers are able to score tickets to see their favorite team (or enjoy a concert or stage play) at a price lower than face value, most are not only paying a markup, but the additional fees charged by the ticket site. Purchasing multiple tickets on the secondary market within the same season adds up quickly. I looked up the New York Yankees vs. Toronto Blue Jays game at Yankee stadium on both Ticketmaster and FanExchange (Section 119, Rows 5-7) and here is what I found:
Ticketmaster: $300 Per + $13.55 Fees = $313.55
FanExchange: $325 Per + $68.00 Fees = $393.00 (+$79.45)
The increase in cost is more than 25% higher in the secondary market. If a fan is buying multiple re-sale tickets, then it is worth targeting them for season tickets (or multi-game packages). Not only can they save money, they will have access to the perks of being a season ticket member.
Campaign Messaging Outline
The way to target these fans is to effectively nurture them and highlight the selling points that they most care about. There should be at least 4 campaign emails and within each of these emails, there is always an opportunity to better personalize using dynamic content, field merges, and filters. Here is what I recommend for each of your emails:
Email 1: Savings Opportunity – Since we have identified that these fans have spent more purchasing multiple single-game tickets through the secondary market, we can lead with messaging specific to their most recent purchase. The potential savings will vary from one fan's purchase to another and even season to season; therefore, you want to highlight that they may have an opportunity to save per game by purchasing a package, but not use language that is misleading. This email should include a link to any content you have around pricing and savings and include the different avenues for contacting sales.
Email 2: Additional Perks – Even without a cost savings, there are many benefits of being a season ticket holder. Not all buyers are price conscious, so the focus of email 2 should be on the other benefits that your organization offers. The primary call to action in this email should be a web or landing page that highlights season ticket member exclusives.
Email 3: Re-Sale Benefits – Based on our Segmentation criteria, we know that this audience understands the re-sale market and has paid more than face value for their tickets. This experience becomes a great selling point – an opportunity for them to flip the script and be the one earning the profit. Lack of time to attend all the home games is one of the biggest objections to purchasing season tickets. The ability to sell unwanted tickets turns that objection into a selling point. The call to action should show the potential profit the fan can earn by selling tickets to one or more games.
Email 4: Fan Experience – The final email in this nurture campaign should focus on the fan experience from the their perspective. This communication would ideally highlight multiple fan videos showing the access and experience that only season ticket members enjoy. Don't focus on the overall game-day experience because this segment has already attended multiple games. Grab their attention by highlighting what they're missing.
Campaign Workflow Example
Below is a basic campaign workflow that will help you nurture your secondary market segment members. This is only one potential workflow; there are many ways this workflow can be expanded to support specific use cases. For example, all the NHL teams offer half season and multi-game packages. If a fan is not responding to the season ticket communications (and they are not globally unsubscribed), an additional path could be included to offer these alternate options. This example is a great starting point to help you market to secondary ticket buyers.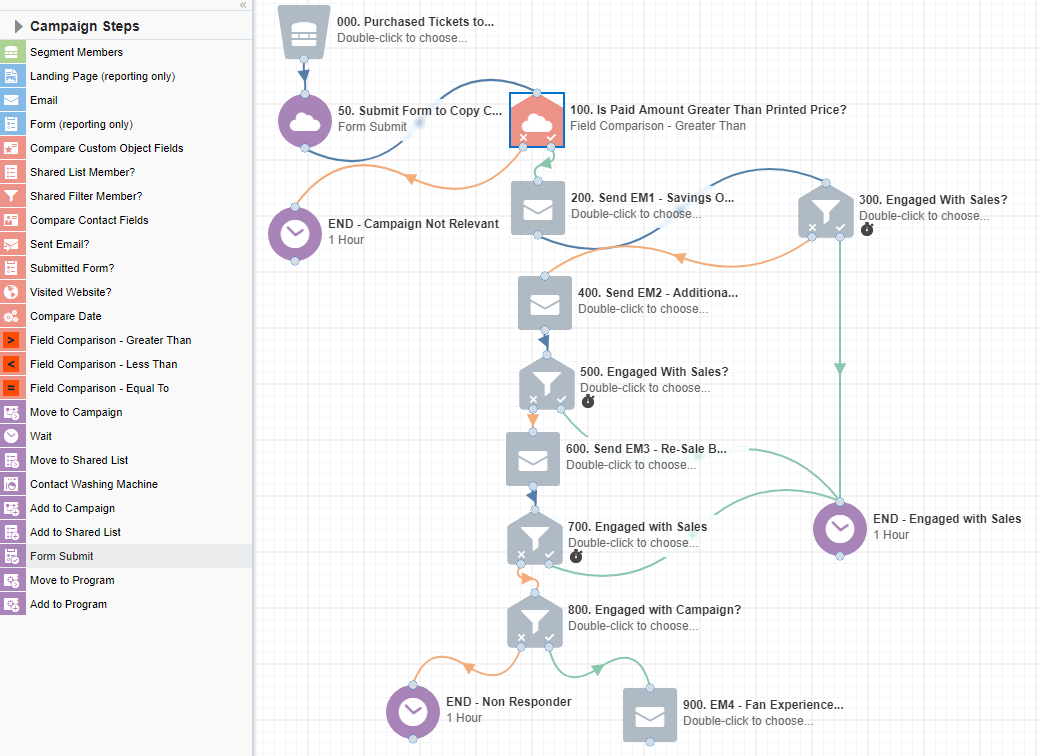 Step 000: This step is a recurring Segment that will continuously pull new fans in that meet the segmentation criteria.
Steps 50 and 100: Eloqua currently does not have functionality to compare the values in two fields. To validate whether the fan paid more than face value, we need to compare whether the value in the "Paid Amount" field is greater than the "Printed Price" field. Without getting too technical, we can use two Oracle Eloqua Cloud App steps to make the comparison: 1) the Form Submit Cloud app should be used to copy values from the Ticketing CDO to the contact record, and 2) Tegrita's Field Comparison app to compare the two values. The Field Comparison app allows you to compare if two fields are equal, greater than, or less than each other. The app is a Decision step that can be added to any Campaign Canvas. The app is currently in Controlled Availability and free to all our clients. If you are interested in using this app, contact us today.
Steps 300, 500, and 700: Each email should include a way for the fan to reach out to sales to further discuss their ticket options. This Shared Filter should be configured to validate if the fan has engaged with sales and if they have, you should exit them from the campaign.
Step 800: In general, I recommend that you make at least three attempts to engage a prospect before you deem them a non-responder. This Shared Filter should look for all forms of engagement (email clicks, website and landing page visits, and form submissions). If they have engaged, it will be beneficial to continue the current communications. If they have not, it's time to evaluate if there is a better message that will resonate with them.
Over the past few years, I have had the pleasure of working with multiple NHL, NFL, and NBA teams. Each organization has similarities but also many differences; however, one consistent struggle is leveraging the data that is available to identify more qualified fans who might convert to season ticket holders. The nurture campaign example is a quick win allowing you to better target an audience you are likely not already engaging using assets that you already have available (or can easily create).
We have helped a growing number of teams and entertainment organizations increase ticket sales and engagement by using personalized, targeted, and well-segmented campaigns. How can we help your sports team achieve their subscription, ticket sales, and online engagement goals or boost fan and attendee engagement? Find out more by contacting us today.
The following two tabs change content below.
Chief Operating Officer | Managing Consultant
at
Tegrita
Brandi Starr is a true Modern Marketing Maven; she believes marketing magic happens at the intersection of strategy, creativity, and technology. As Chief Operating Officer at Tegrita Brandi helps companies of varying sizes to attract, convert, close, and retain customers using technology. Brandi is the Co-Author of CMO to CRO, The Revenue Takeover by The Next Generation Executive and the host of the Revenue Rehab podcast.
Latest posts by Brandi Starr (see all)