From "Eloqua Experience" to "Modern Marketing Experience" and now, "Modern Customer Experience"; the event name has changed to reflect the growing industry, organization, and technology, but it's the same amazing event that just keeps getting better!
This year's Oracle's Modern Customer Experience (ModernCX) is quickly approaching. The event is in Chicago from April 10th to 12th, 2018 and I'm even more excited to attend this year than ever before because Tegrita is a first-time sponsor.
Working with new Eloqua and Responsys customers, our clients and industry partners often ask if we feel that attending ModernCX is REALLY worth their time. We understand that it is difficult to get the travel budget approved and to be out of the office for 3 to 4 days, but the answer from our team is always a resounding "YES!", and it's not just because we are an Oracle Gold Partner; it's because we truly enjoy the conference. Before joining the Tegrita team, many of us were clients just like you. In fact, in my last role, my colleagues and I started building our business case to attend the conference, months before registration opened.
Before I share why I think that you should attend ModernCX this year, I started by asking our team what they say to our clients when we're asked, "why should I attend ModernCX?". Here are some of their responses:
Andy Shaw, Lead Technical Strategist said "ModernCX is the best place to deepen your knowledge base and broaden your community."

Jesse Nobbe, Senior Solutions Architect replied "It's a great opportunity to meet your peers and see what they are doing, and to see what solutions there may be to your common problems. You may find there's a lot you don't know."

Mike Geller, Co-founder of Tegrita and CTO feels "It's an opportunity to share your success with others, which helps both the Oracle community, and promotes your personal brand as a modern marketer."

Mythili Viswanathan, Marketing Automation Consultant said, "It's an opportunity to get face-to-face time with industry leaders, and to share ideas with cohorts on what's worked for you and what's worked for them."

Andrew Kolbuc, Solutions Consultant thinks "It's an excellent place to learn about other leading use cases of Eloqua and to inspire ideas for future initiatives, strategy, and direction."
On a personal level, there is one main reason that I have attended the conference almost every year and that is because true Modern Marketing is a journey with no end. Each organization is in a different phase in their marketing journey. Some are just getting started, shedding "old school" marketing practices in exchange for a more digital always-on approach, while others have a mature technology stack and are executing sophisticated omni-channel campaigns. Attending ModernCX is the ideal  opportunity to hear from hundreds of Oracle Marketing Cloud customers and learn how they are leveraging Oracle and other technologies. This quote from the ModernCX website perfectly sums up the learning opportunity for marketers at ModernCX:
"Whether you're looking for better ways to manage the full lifecycle of your B2C customers, or you want to nurture B2B clients from first impression to customer advocacy, this is the conference for you. Spend more time on strategic activities and less time on redundant, manual tasks, and deliver irresistible, connected experiences that are informed by context. Join other marketing professionals, industry influencers, product experts and Oracle executives to learn how you can use the entire marketing ecosystem to impact customer experience."
Another feature of ModernCX that I find valuable is to peruse the exhibit hall. While the sessions are educational, the conversations that I've had with exhibitors during the conference, have on multiple occasions, been the catalyst to increasing the marketing maturity. The Oracle Marketing Cloud Marketplace is growing. More companies are able to plug into Eloqua and Responsys to offer some amazing services. Chances are, you don't really know who they are (or what they have been up to lately). Getting a one-on-one demonstration and even conversing with their customers helps you understand how these different platforms work, how they plugin to your marketing automation platform, and how you can benefit by leveraging these technologies. It's a rare opportunity to have all these companies in one interactive space. So, make time at ModernCX to explore the exhibit hall, and plan your visit during non-peak hours to have the most meaningful conversations.
And finally, to top off the great learning and networking opportunities, ModernCX is a lot of fun. All work and no play make for a less creative (and grumpier) marketer. At the end of the day, when your cup runneth over with new knowledge, ideas, and opportunities, take some time in the evening to enjoy the social side of ModernCX. Grab a coffee or a cocktail with someone you've just met and attend a conference party or CX Fest (Weezer is headlining this year).
If you haven't already registered for ModernCX, we are offering a discount code for our clients and Blog readers. Register using the promo code EloquaStarr and attend the conference for only US$995. Visit the Tegrita booth when you arrive. See you in Chicago!
Here are some of my favorite photos from the last few conferences: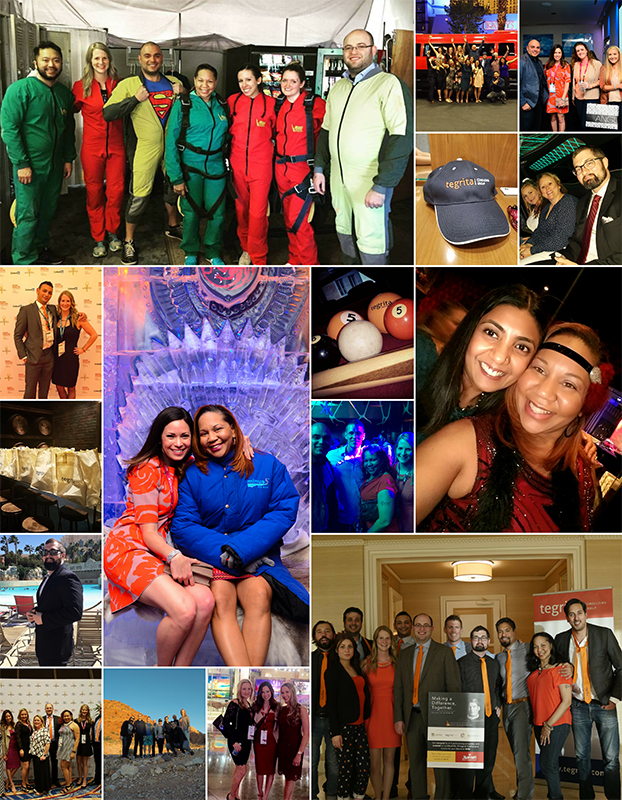 The following two tabs change content below.
Chief Operating Officer | Managing Consultant
at
Tegrita
Brandi Starr is a true Modern Marketing Maven. She believes marketing magic happens at the intersection of strategy, creativity, and technology. Brandi's 15 year career has spanned a variety of industries and marketing disciplines. Brandi is an Eloqua power user turned consultant with almost 10 years of experience maximizing the power of Eloqua. Her expertise include demand generation and nurture strategy, business process transformation, controlling email frequency, custom security and she is the SME for the Higher Education vertical.
Latest posts by Brandi Starr (see all)