Earlier this month, we had the pleasure of sponsoring Advocamp 2016. Advocamp is a 3-day event that focuses on and celebrates the culture of customer love and advocacy. The nearly 1,000 attendees learned how to delight their customers and turn advocacy into a sustainable competitive advantage. The amount of content packed into the three days was amazing. I returned from Advocamp 'jazzed' about our partnership with Influitive but also to launch our own Advocacy program using the platform.
Advocate Marketing is still a fairly new category for Modern Marketers, so I offer you an introduction to the term and my key takeaways from the Advocamp conference.
What is Advocate Marketing…and Why Should You Care?
Advocate Marketing is a discipline that helps businesses capture the enthusiasm of their customers, partners, and employees, and turn that into a powerful force for igniting business growth. Watch the video below to learn more:
Top Tips for Effective Advocate Marketing from the Experts at Advocamp
"Creating zealots is not for the lazy." @jaffejuice Don't treat Advocate Marketing like the new shiny marketing object. Continue to perfect what you are currently doing but add Advocate Marketing to the mix. Also, creating an army of zealots who advocate for your brand is not easy, however by leveraging technology you can identify and nurture your advocates, and develop nurture campaigns to take advantage if the revenue potential from your existing customer base.

Negative customer experiences can lead to enthusiastic advocates @jaybaerNot only do Marketing and Sales need to be aligned, but Marketing and Customer Service also need to be on one accord. Unhappy customers if nurtured properly can become your biggest advocates. For example, an unhappy customer calls into your customer service number to express their dissatisfaction. At the conclusion of that call if your CSR has been able to satisfy the customer they could use it as an opportunity to invite the customer to your advocate program (i.e. "I am happy that I was able to resolve your issue, at ACME Co. we are always looking for customers like you who are open to sharing their experiences and opinions of our product. Would you be interested in joining our Customer Advocacy Program to ear rewards for your feedback?")

The top ways to motivate your advocates, according to @DanielPinkIt can be scary to put your customers together and send them out into 'the wild' to speak on behalf of your brand. However, doing so most often yields even greater results than expected. Some of the examples that Daniel provided included customers who allowed advocates to run their booth at tradeshows, go on sales calls, and speak at conferences.

Managing Your Advocate Marketing Program (Eloqua + Influitive)
Developing a Customer Advocacy program is only the first step, you need an easy way for your marketing team to manage the program ad communicate with your advocates. That's where Influitive comes in.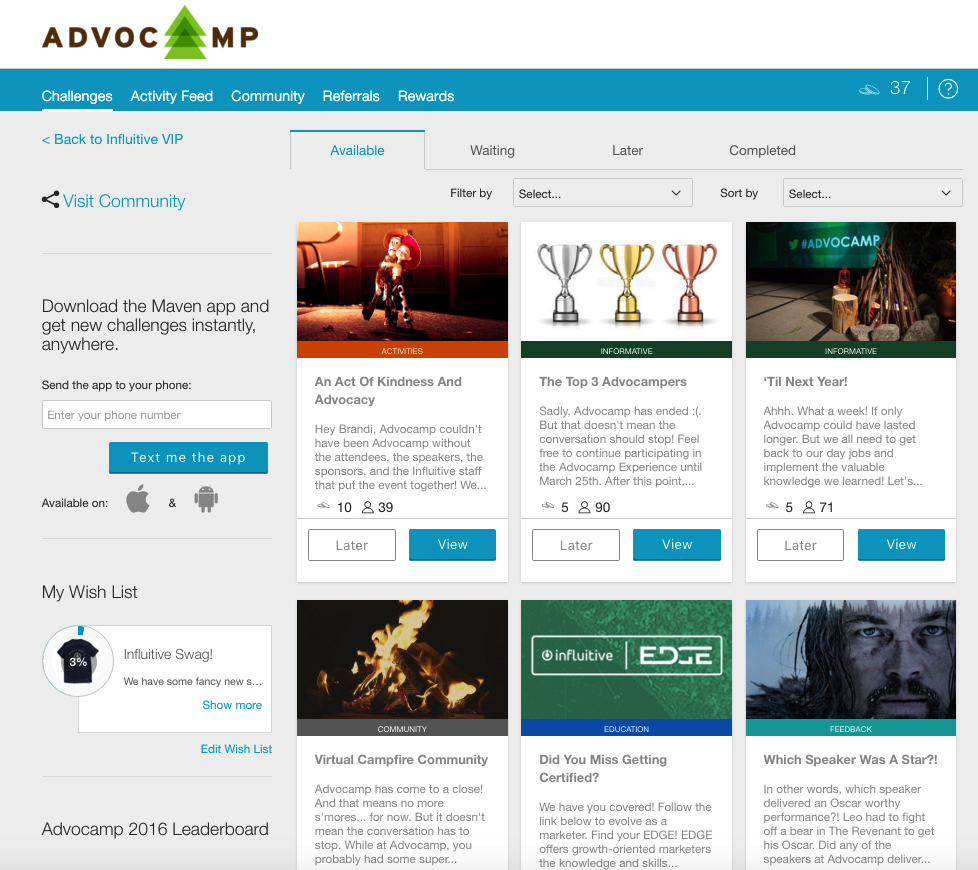 Influitives AdvocateHub allows marketers to build advocate communities and invite customers, partners and employees into it to complete "challenges" like referrals, reference calls, product reviews and more. As advocates complete challenges, they earn points, badges and levels that can be used for a variety of perks and privileges.
Your Influitive AdvocateHub can be integrated with Eloqua allowing referrals from your advocates to be captured, nurtured, and passed to your sales teams through your Eloqua CRM integration. In addition, Influitive allows you to sync your groups of Advocates to Eloqua Shared Lists allowing you to trigger relevant and timely communications with your customers. Eloqua can also help you to identify potential advocates using Segmentation and automate the invitation process.
Tegrita is now an Influitive Partner, which allows us to help Eloqua Customers develop their own Advocate Marketing program, and integrate it with Eloqua. If you're ready to take your advocate marketing to the next level with Influitive and leverage Eloqua, contact us here.
The following two tabs change content below.
Chief Operating Officer | Managing Consultant
at
Tegrita
Brandi Starr is a true Modern Marketing Maven. She believes marketing magic happens at the intersection of strategy, creativity, and technology. Brandi's 15 year career has spanned a variety of industries and marketing disciplines. Brandi is an Eloqua power user turned consultant with almost 10 years of experience maximizing the power of Eloqua. Her expertise include demand generation and nurture strategy, business process transformation, controlling email frequency, custom security and she is the SME for the Higher Education vertical.
Latest posts by Brandi Starr (see all)