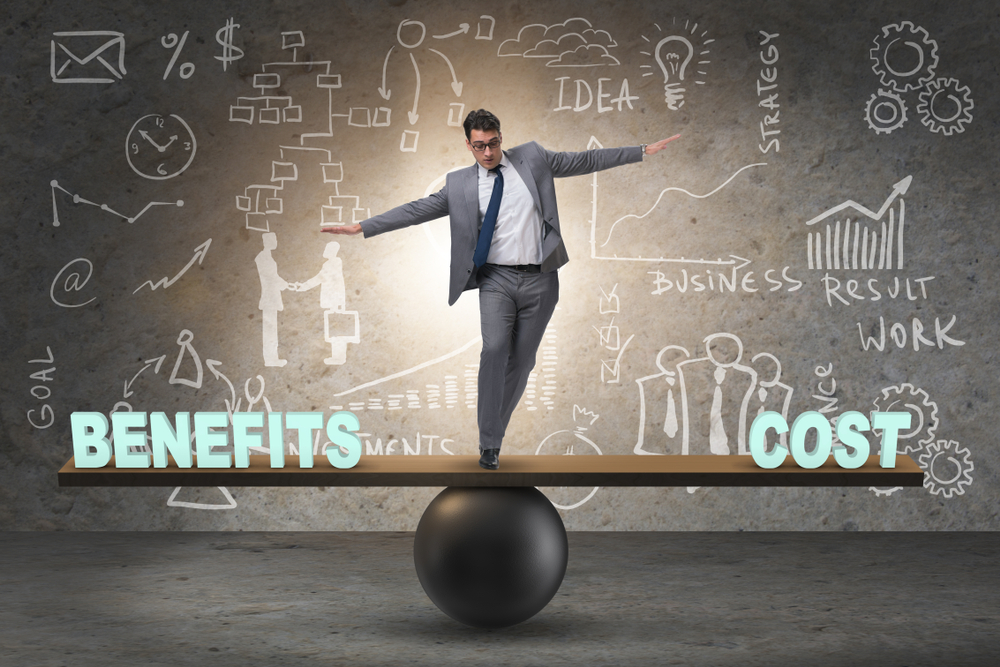 CMOs have many choices for how they spend their digital marketing budget. In this installment of our "Challenges CMOs Face" blog series, we'll discuss the challenge of determining what's most important in a marketing budget, and how a digital marketing strategy roadmap can help set the right priorities.
When you set a household budget, it might feel like there's always this temptation to spend money on fun, new items. Me, for example? I love a good shopping trip to Nordstrom's every now and again. OK, maybe more often than that!
And why not? After all, we work hard, and it's OK to want a new pair of shoes, a fun new tech gadget, or any other item that does little more than instantly gratify. However, as any responsible budgeter knows, it's more important to balance the fun with practicality. Prioritize your financial obligations and long-term investments first, then have fun with whatever might be left over.
The same goes for digital marketing budgets. CMOs can choose to spend their digital marketing budgets in a number of different ways. It might be tempting to invest in the flashiest new technologies and services, or launch an exciting new idea for a campaign, but in the end, it's the CMO's responsibility to plan the right spend. So how do CMOs determine what is really most important?
Creating a digital marketing strategy roadmap is the best way to make sure marketing efforts are properly focused, intelligently utilized, and most importantly, on budget – not just in the short term, but a year or more from now as well.
Before we talk about how a roadmap for marketing activities can help with budget planning and utilization, let's take a look at how other industry CMOs are spending their money.
2018 digital marketing budget forecasts
According to The CMO Survey, digital marketing spending increased by double digits across all industry sectors in 2017. Traditional advertising spending, on the other hand, slightly decreased. CMOs are really starting to see the value in digital marketing. To that end:
Marketing spend on analytics is expected to increase by more than 200 percent over the next three years.

Marketing analytics will play a larger role in how overall company performance is measured.

More firms are using analytics tools to measure marketing impact.
Even though CMOs are predicting more use of marketing analytics to impact decision-making, most firms report they lack the metrics they need to demonstrate the impact of their marketing spending.
How investing in marketing analytics helps with budgeting
At first, it might seem counterproductive to spend more on marketing analytics in order to reign in your marketing budget. Many clients ask us how to determine where to spend more of their budget – whether in new technology, campaigns, or in analytics. We often suggest investing in analytics. Clear analytics that are properly tailored to your unique goals really can help you save money and make the most of the money you do spend. Here's why:
Marketing analytics give you clear direction. Whether it's increasing your customer base, bolstering a specific product, increasing positive customer sentiment (or a mix of all of the above and more), marketing analytics tell you where the problems are, what you need to do next, and whether or not you're doing well at it.
Marketing analytics help you to keep up with industry trends. Obviously, you don't want to copy your competition, but you do need to keep up with what they're doing. The right analytics will help you see what's working for other firms, and then you have to adapt using your own ideas.
Analyze past efforts. What worked last year? How can we make it work this year? Should we scrap that idea and start from scratch? These are questions that require quality answers in as little time as possible, and the right marketing analytics software solution can do that for you.
How a digital marketing strategy roadmap can help
The CMO Survey also points out increases in spending on social media marketing and an uptick in mobile marketing investment. Should you invest more in those areas? Will your organization benefit? How do you know for sure? Having a digital marketing strategy roadmap can guide you in the right direction. The right roadmap will back your big ideas with the right budget support. A good marketing plan roadmap contains:
Financial goals. How much revenue do you need to generate in order for your team to not only make the bottom line, but make an impact?
Digital marketing strategy. What channels are you investing time and talent in, and why?
Detailed goals by customer segment, product or channel. In what specific ways can digital marketing help you reach the right people with the right solutions offered by your company?
Major marketing campaigns. What are the big ideas and cornerstone campaigns that will bring in the most customers at the right times?
A detailed budget. Where is your money best spent, and are you able to deploy agile strategies if any budgeting tactics aren't working?
Regular progress review. Do you have a plan in place to regularly check in with your team, both internal and external, to make sure your budget and marketing goals are on track?
The best way to create a digital marketing roadmap
There's no elusive magic involved when it comes to putting together the right digital marketing roadmap. You need help from your team.
In addition to insights from analytics, the market, sales and product teams can offer invaluable insights into what's working, what's not, and how your entire team can be a force for digital marketing change. Combined with the right digital analytics software to help you hone in on what your customers want, your team's expertise will make you an unstoppable force.
If your team needs an impartial recommendation on the right insights to gather, it's time to think about adding the expertise to help you make sense of your analytics. Perhaps this will involve adding in-house staff, seeking the help of an outside firm, or a combination of both.
At Tegrita, our team of experts in marketing automation and strategy can help you create a digital marketing roadmap that ensures every dollar you spend is purposeful.
To get you started, we've put tougher a Strategic Roadmapping Playbook to outline the process and provide some of the templates that we use when we work with clients like you. Click here to get your own Roadmap Toolkit.
Contact us today to discuss your marketing roadmap needs and find out how we can help.
The following two tabs change content below.
Ali Selbo
Ali Selbo has a deep passion for creating a vision for long-term success. Her background in marketing strategy, campaign management, and system integration helps her guide clients to define and execute on their strategic initiatives. Ali brings a unique and rich perspective from having been in the Client's shoes, directly working with Eloqua, Salesforce, among other marketing automation platforms and CRMs. Her experience with vendor selection, contract negotiations coupled with technical know-how drives Tegrita's Sales and Marketing efforts.
Latest posts by Ali Selbo (see all)