The best data any marketer can access is their own data. Driving demand from your data means learning how to interpret the signals and respond appropriately to your audience's digital body language.
Every link clicked, page of content consumed, email opened, landing page visited, or shopping cart we load with goodies (whether we actually check out or not) are examples of our digital body language (DBL). Our DBL is derived from the individual actions that make up life online. Understanding and leveraging the power of our digital assets is a necessary step for customer experience.
Oracle Eloqua and Digital Body Language
In Oracle Eloqua, digital body language can be tracked via first party cookies. It can be catalogued, analyzed, and integrated into the decision orchestration engine in your MarTech stack, Oracle Eloqua. From triggering internal emails to displaying specific pages, or only allowing access to certain pages, there are countless ways to improve the experience of known contacts on your site.
Known visitors are defined as a visitor that can be linked to a contact record. This is typically done through form submissions and or email click-throughs, whereas unknown visitors are those that have not yet been tied to a contact record.
Creating an Authentic User Experience Strategy
2021 requires a first-party data collection strategy. This requires marketers and their technical resources work hand in hand to implement a best-use plan in tracking first party data with Oracle Eloqua.
First Party Tracking
Effective First Party Tracking isn't just about gathering data. It's about understanding how data communicates needs and informs your entire organization on what is required to satisfy this specific user in a transparent, compliant and secure manner.
Best in class marketers understand they don't just need to track DBL. They need to interpret what it means and make informed decisions. For the chance to win at scale, marketers need to automate the right response to each unique and specific audience whose needs align to their solution.
Starting with Cookies
Cookies are the vehicle most will use to store all kinds of information. One of the possible pieces of data is a unique identifier for tracking purposes.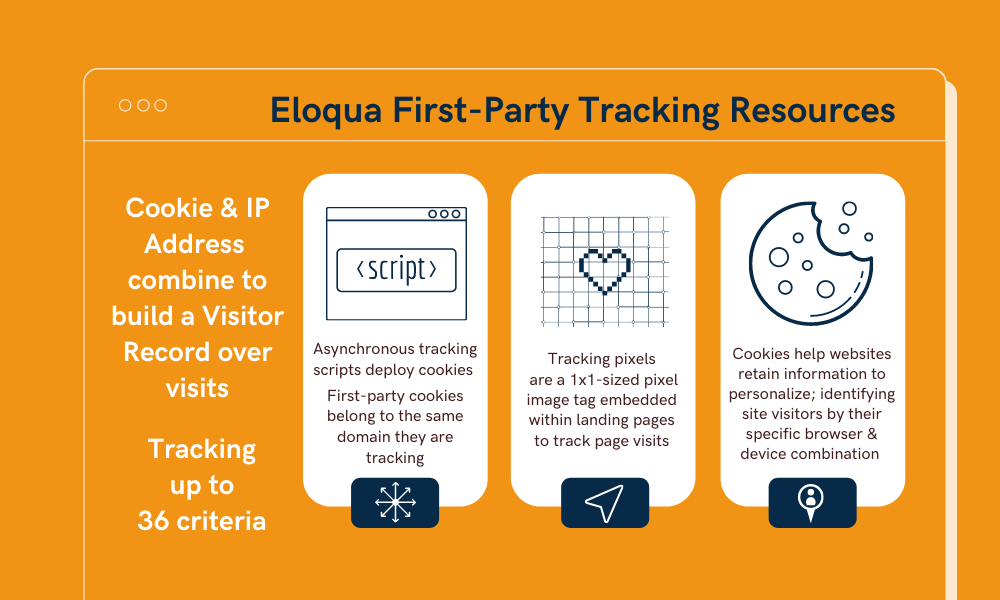 This starts by creating a space that delivers a secure browsing environment from your emails to your landing pages, to your website.
Quality content is the ultimate influencer. Use the image migration requirements to review and refresh content and corresponding campaigns.
Taking Digital Security Needs Seriously
Secure environments are the de facto standard and the minimum expectation among your customers. As digital interaction has increased, the perceptions of trustworthiness and validity impact brand and business performance. They can even impact your Search Engine Optimization rankings.
Many marketers are still grappling with the fast-changing reality of privacy and security as a top consumer concern. Across the EU, GDPR regulations are changing; and after more than a year of digital interaction as the main form of engagement, customers and clients are now used to navigating away from your site if they feel your digital environment is not secure
Tegrita's Strict Mode Tracking primer streamlines and simplifies the process. Walking you through the strategic and technical requirements for first-party opt-ins critical to GDPR compliance. These actions are a best consumer practice, and are the price of admission to effectively tracking first party data inside your Oracle Eloqua instance.
Personal Preference Retention
As Marketers we're naturally curious about our visitors and buyers. Oracle Eloqua excels at enabling decisions based on a bevy of contact activities. Lean into that curiosity to push through the meticulous work of orchestration with the goal of going beyond identifying audience, to improving their experience by adjusting your engagement and subsequent actions.
The improved, personalized experience is made possible by preference retention. Personal preference retention is an act of consideration and appreciation, online and off. It eliminates the redundancies in the buyer journey learned from previous users.
Use past digital body language of known visitors to inform their current user experience, create personalized website experiences, optimize content towards that specific user, and ultimately help them quickly find and align your specific resources to their specific needs.
The 36 different parameters captured by visitor profile fields, enable content and actions that enhance and support user convenience and ease the path to adoption.
Website Visits and Page Tags are two other useful segment criteria that result from visitor data. When we have a known visitor that doesn't use an email link or their Personalized URL (PURL), we can still give them a personalized experience with Web Data Lookups, Dynamic Content, and Field Merges.
It's important to note that VPN or TOR usage impacts visitor data reliability. Only some visitor fields are available via segmentation. Others that marketers may wish to report on can be easily found on Insight.
A word of caution on data collection responsibility: "It is important that your organization understands what regulations apply to your personal data collection operations and what information to provide when capturing personal data."
Whether that's driving content specific to known visitors or organizing content resources that align to that company; featuring the visitor's local franchise in your landing pages creates a personal touch.
Personalization is the digital equivalent of the warm and fuzzy "aww that barista remembered my drink order" feeling. The same feeling surfaces when a consumer opens a browser tab and sees 'YES the cart saved my order AND my coupon code!' It is a relief to customers who don't have to go through added steps: friction – the most effective killer of campaign conversion rates. . This time of transition is all about bringing ease to the various audiences your brand serves.
Modern marketers that leverage visitor and other data to evolve and improve the user experience, and ease use in an authentic and accurate way are on the right path.
Building a strategy that evolves experience in a way that works for the visitor organically, means strategic consideration of how you can maximize the page experience from the data points collected. A few examples to help get you started are below, see your Tegrita Team for more.
Field
Description
Usage
Browser
Visitor's browser used. Oracle Eloqua may shorten version numbers to one decimal.
It is rumored that Chrome has 2/3rds of the market, but certain industries are browser loyal. Technical teams lean towards Firefox. Consider the formatting and compatibility of your content for every browser. The amount of your audience is mobile and optimizing resources towards for what your audience uses most is essential.
Company (from IP)
Visitor's company name detected from their IP address.
ABM and lead score purposes, are of course immediate ROI opportunities from this data group but awareness of the types of organizations organically attracted to your content, what content resonates across specific segments of your audience and how that evolves over time can drive marketing programs in innumerable ways
Company DNS Name
Visitor's company name derived from the DNS.
Email Address
Visitor's email address populated if the visitor is linked to an Oracle Eloqua contact.
Current Total Pages
Number of pages viewed on the visitor's most recent visit.
Total Visits
Number of visits made over all time.
The following two tabs change content below.
Amy Noel
former Marketing Strategy Lead
at
Tegrita
Amy is a former Marketing Strategy Lead at Tegrita. Working on top brands in the Tech and Automotive industry she developed a best in class digital strategy leader with the experience to see clients through recessions, economic downturns, dependent industry booms and their subsequent busts.