Marketing Automation requires more technical knowledge, analytical skills and business savvy than simple email marketing. Having an experienced team that can build in contingencies for process, technology stack integrations and analytical considerations is critical for success.
Implementations
Implementing a new technology can be a significant undertaking. For a successful and timely roll out of your Oracle Eloqua or Oracle Responsys Marketing Automation Platform, it is recommended that you have an experienced partner that can configure and launch it with an understanding of its capabilities, matched to your data and business requirements. Having completed over 100 implementations, at Tegrita, we developed an efficient process that enables us to get you up and running in as little as 4 weeks.
We offer you experience, knowledge, and partnership to help you through a successful implementation and launch. Our team of consultants and strategists can guide you through your entire implementation and beyond, and get you started with revenue-generating programs.
Marketing Automation Consulting
At Tegrita, we pride ourselves on knowledge transfer and strategy enablement. We will help you streamline your marketing and sales funnel management processes by replacing often manual and repetitive processes with automated, personalized campaigns and solutions. We support your marketing automation initiatives from planning and full coordination to management and analysis.
Our capabilities include: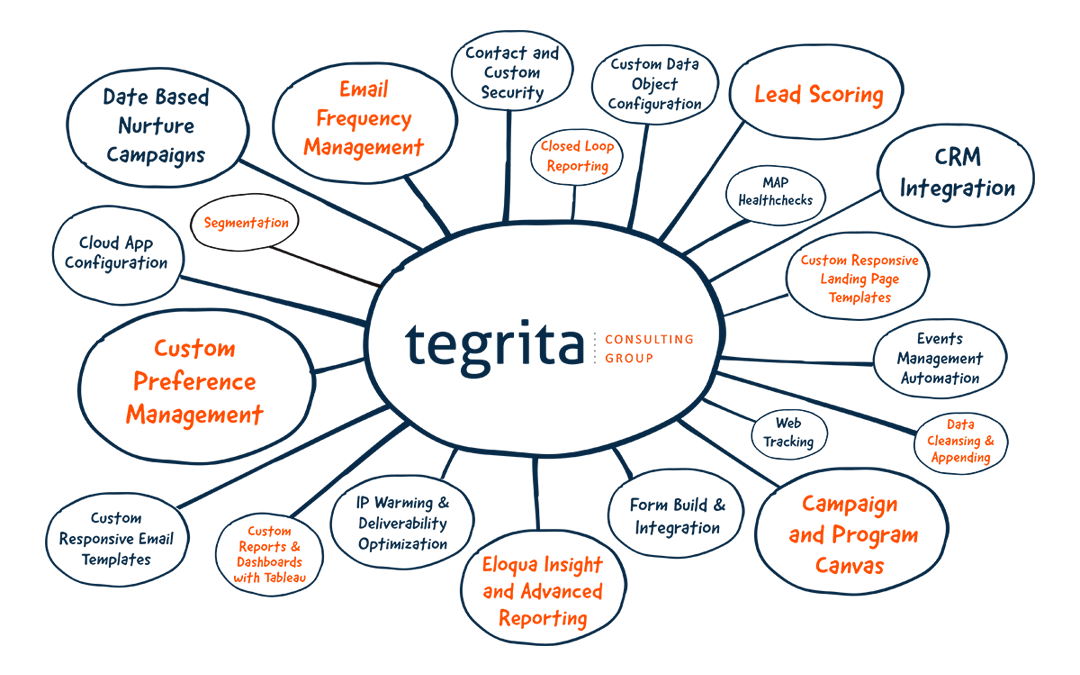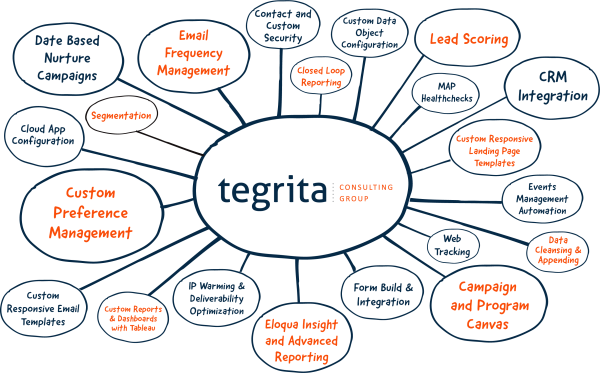 Modern Marketing Health Checks
Just as you take care of yourself and have an annual health check with your doctor, or take your car in for a tune-up, the same care has to be given to your marketing automation platform. Performing an Oracle Eloqua or Oracle Responsys Health Check is vital for your system's longevity and your marketing growth. We carefully examine your campaign performance, integrations, database health, deliverability performance and several other configurations of your instance to identify the good, the not so good, and to alert you if there are any issues or warning signs.

After completing the health check, we will walk you through the results, provide recommendations, and give you a presentation deck to share with your team. The Health Check will help us identify "quick wins" for your organization, easy steps for improvement, areas where you can increase automation, and help you maximize your reporting capabilities.

Fill out our survey to learn more and find out if it's the right time for your health check: Tegrita's Health Check Survey.
Technology Infrastructure Planning
As you continually add to your technology ecosystem or "stack", it's important that you add the right technology. Without the right support and IT folk familiar with marketing technology, it can be challenging to get the insight you need to wade through options, and to compare and identify solutions that compliment your existing technology stack. We bring the necessary experience and knowledge of the technology landscape to help you make informed choices for your business needs and to implement your chosen solutions.
---
Benefits of Working with Us
Our Collective Knowledge is Yours
With our knowledge and experience, we can take the complex processes involved in marketing automation and execute them more quickly and accurately. We use proven practices to avoid errors and risks that you may not be aware of. Our goal is to enable you to become independent in your mar tech stack and share our knowledge with you so that, over time, you will be able to identify the subtleties that affect your system.
Get More Actionable Reporting
Using proven practices, we can help you showcase your data by providing you with actionable reports. These reports will garner the insight you need to continually improve your marketing programs, including (but not limited to) lead nurturing.
Learn to be More Flexible
Working with a technology partner puts you in a better position to shift and adapt your marketing automation strategy as market forces, consumer preferences, and trends change. At Tegrita, we will help you ride these waves so that you can stay afloat and ahead at all times.

Working with a technology partner for your marketing automation needs means you are in a better position to shift and adapt your strategy and programs as market forces, consumer preferences and trends change. Market changes occur often and quickly. Are you ready to adapt just as quickly as the landscape changes?
Let's discuss your needs
TESTIMONIALS
Oracle Eloqua is sold under the premise that marketing people can implement and maintain the system. That being said, a knowledgeable and technological savvy partner is required for a successful implementation. We found Tegrita to be that knowledgeable and technological savvy partner. We use Tegrita for assistance with ongoing technological assistance as well as help with thought leadership and best practices.

John Hynek, Database Marketing Manager, United Federal Credit Union
The Tegrita team helped us get up and running on Eloqua in just three weeks. The implementation process could not have been smoother – the team was extremely organized, highly skilled, and fun to work with. We had a very aggressive timeline and I had complete confidence that partnering with Tegrita would allow us meet to our goals. The team went beyond just implementing software – they helped us strategize, shared best practices, and took the time to truly understand our business. I'm excited to have Tegrita as a long term partner of Fuze.

Emily Ketchum, Sr. Manager, Global Marketing Operations, Fuze
The Tegrita consulting team was very instrumental with helping Congressional Federal Credit Union implement Eloqua during the Smart Start phase. In the finance industry, we capture an abundancy of data that can often be quite complex. With Tegrita's help, we were able to navigate, simplify and extract essential data to effectively develop robust campaigns. The team was patient and flexible during the entire process. I highly recommend using Tegrita Consulting Group for your implementation.

Phoenix Phimmasene, Marketing Manager, Congressional Federal Credit Union
Tegrita has been an integral part of our success in the implementation and deployment of Eloqua for our three different multi-tenant franchisee companies. Without them, I don't think we would have been able to get up and running as quickly as we did. Tegrita took the time to understand our business model and knew we could not have the same type of implementation as other companies. By delving deep into our business processes, we were able to launch and feel safe that the security needed was in place to protect our franchisees.

Meribeth Gunn, President, Summit Marketing Communications
Working with Tegrita was essential to the success of the implementation of Eloqua at SUNY Plattsburgh. Tegritas team was with us from day one, educating us on best practices. Not only were we able to launch two robust campaigns by the end of our SmartStart contract, but we are now able to use the tool ourselves, thanks to their coaching. I recommend that any company or business looking to implement Eloqua as part of their communication strategy partner with Tegrita first.

Catherine Keleher, Director of Marketing, SUNY Plattsburgh