Once upon a time, some 10+ years ago, marketing automation was slowly emerging. It was an interesting concept – have the marketing team create their own lists, emails, and landing pages with forms to deploy their campaigns and to capture leads without having to ask IT. 
It was a good idea, and it caught on quickly, but adoption was a problem. It wasn't easy or straightforward. It was hard, required a level of technical acumen and people power – additional resources who focused exclusively on using marketing automation. Many marketing departments weren't prepared for that and as a result, there were (and still are) a lot of failed attempts to implement marketing automation within the organization. 
Marketo, probably Oracle Eloqua's biggest competitor, is also the only one to take a radically different approach to marketing automation as compared to Eloqua. Marketo's approach is to create a linear path to marketing. The platform follows a step-by-step approach to building campaigns that have their own dedicated segments, assets (emails, forms), automation (logical workflows), and integration into CRM.  Once you implement Marketo and build one campaign, you're pretty much set to build more, and more and more. It's easy – well – maybe not easy, but straightforward.
Oracle Eloqua's approach to marketing automation is modular. For example, to launch a campaign, you still have to build a segment, email, landing page with a form, but how you go about putting it together is up to you. It largely depends on the purpose of the campaign, and the overall marketing strategy. 
As time passed, things really went into high gear and the growth of that Marketing Automation industry took off with Marketing Automation being on every CMO's checklist of must-have technologies. However, having a technology on a checklist doesn't mean success with the technology. Success with marketing automation comes down to people, process, and technology. 
What we as consultants see, is that the technology becomes the scapegoat for the departmental failure with marketing automation, with the end result being a technology swap, a personnel swap, or a combination of both. So, what does this have to do with Marketo?
From a technology standpoint, your stack of marketing technology (your MarTech stack) needs to be more than just integrated, it needs to be centrally managed from your marketing automation platform. 
Here is what I mean – your company's business objectives change and evolve and grow constantly. Likewise, the marketing strategy and how you go-to-market changes and evolves over time. As the organization evolves, so do the rules around lead qualification, lead management, and the customer lifecycle as a whole. The rules surrounding decisions associated with these business processes usually don't get simpler over time, and this is where using a linear platform for your marketing automation is going to stifle growth. Your business processes aren't linear – well, they shouldn't be.  You can't be best in class if you conform your business process to the technology as opposed to using technology to enable your business process, support your people and thus activate your marketing strategy. 
Oracle Eloqua is a modular marketing automation platform whereas Marketo is a linear marketing automation platform. By virtue of Oracle Eloqua's modularity, it affords more flexibility, which in turn supports your company processes and enables users. For us as consultants, we want to ensure our clients use best in class technology to allow for maximum flexibility for the long haul.  This is especially important in our case as we have no interest in supporting all marketing technology available – whether in a specific category like marketing automation or across the stack. Our focus is to learn and support the best in class technology within each technology category across the MarTech stack because we believe that this is how our clients will gain the most value from our partnership. 
When talking best in class for marketing automation, according to Forrester's latest  wave for Q4 2018, Oracle Eloqua is hands-down the winner.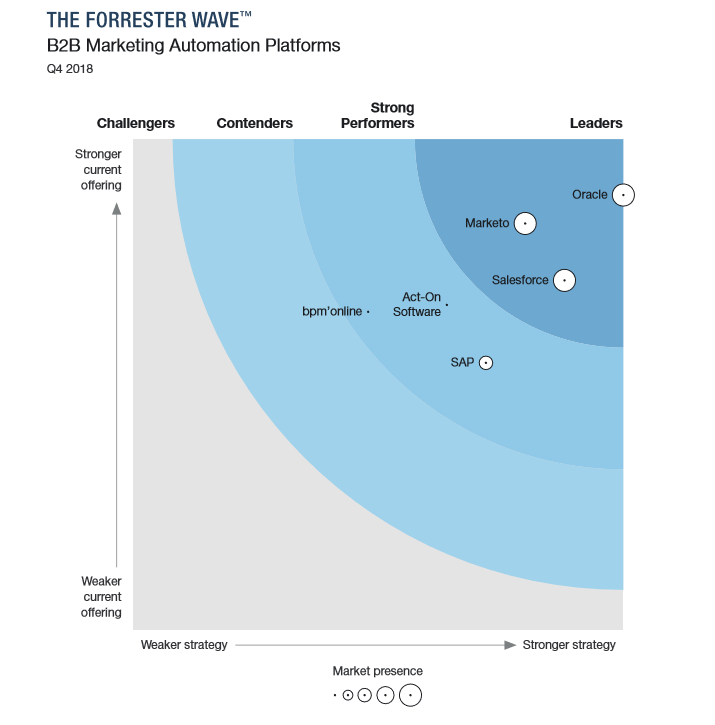 While Marketo is a solid marketing automation platform with a strong following and a loyal user base, it's rigidity can be restricting when it comes to activating your marketing strategy to its fullest potential.  The most common reason why we do Marketo (or Pardot, etc.,) to Oracle Eloqua migrations is due to the platform no longer being able to meet the needs that the organization require— they outgrow it.  It's the key reason why we advocate for getting a platform that you can grow into rather than grow out off. If you'd like to know more about how Oracle Eloqua can activate your marketing strategy and help with growth, reach out to us and let us help you get started on a flexible path towards your future.
The following two tabs change content below.
Chief Technology Officer | President
at
Tegrita
Mike Geller is a pun-loving coffee connoisseur, panellist and facilitator who makes you question if you ever understood the power of marketing technology. Mike believes that nothing is impossible and his knowledge of data, analytics and the future of revenue technology makes a strong argument that he could be right. He is the Co-Author of CMO to CRO, The Revenue Takeover by The Next Generation Executive. Bringing Mike on to your podcasts and panel discussions will implore your audience to reconsider how they approach Martech and where they see their limits.
Latest posts by Mike Geller (see all)