Introduction: The Growing MarTech Space
The world is constantly surrounding us with change. In a time where new technology is developed daily, a new app that does something new, or one that builds on something that already exists; Elon Musk's latest add-on to his Tesla vehicles, whatever the new iPhone can do, the list goes on and on. This everchanging landscape means businesses too, must adapt.
I have been in the marketing industry since 2015 and in that short amount of time, I have seen tremendous change in practices, consumer and B2B tendencies, and most of all, the way in which the job gets done. MarTech is an ever-growing space, and as a MarTech Consultant, I have helped companies realize the difference that automation can make and the opportunities that may open because of it.
When discussing powerful marketing automation tools such as Oracle Eloqua, Hubspot, SalesForce Marketing Cloud and Adobe Marketo, the thing I constantly hear about is price. Yes, they can seem costly. It can be a significant investment particularly for companies with a large database, as fees are often calculated per contact. However, the capabilities of these tools create opportunities for ROI that the smaller ESPs simply cannot match, which makes a marketing automation tool, like Oracle Eloqua, a very wise investment on multiple levels.
At the beginning of my marketing technology career, I used tools such as iContact, MailChimp, and Constant Contact. While these tools are effective (assuming you are following best practices such as double opt-in and monitoring delivery), they simply do not have the capability of implementing some of the biggest differentiations between landing in an inbox and a Spam filter or junk box. Of course, opt-ins are universal, and any ESP is more than capable of covering the legal piece of only contacts who have agreed to be contacted. The missing piece though, is how top tier products, such as Eloqua, can create everything unique to you, so that you reap the rewards of all your email efforts.
Reason 1: Implementing Email Best Practices; Unique Ips and Branded Domains
Unique IP Address
A major advantage to investing in high-performance MarTech software, such as Oracle Eloqua, are unique Ips and Branded Domains. Having the ability to configure your new domains and IPs so that you are adhering to industry safe sending habits as well as the ability to configure a Branding and Deliverability package will optimize deliverability, therefore optimizing your return.
Now you might be asking, 'how do I see an increase in leads and customers from my emails?' Well, messaging and target audience are obviously important, but it starts with landing your content in inboxes. ISPs are becoming increasingly aware of email behavior and for the senders who did not spend the time, or the resources, setting themselves up correctly, they are landing in junk folders and being marked as an unsafe sender.
Typically, companies that choose to spend a small amount of money a month on a lower-end tool, are the ones who are sending to contacts who have not agreed to be contacted and have not updated any of their internal settings. Even if you are doing everything right, when you share an IP address, other parties using the same product can impact your marketing efforts and online reputation by affiliation. It's simply an unavoidable risk taken with those products. A boutique or specialized ESP (including some of the big names) will allow you to configure your domains in your account settings, but the IP addresses will always belong to them on the backend. You are sending emails with your own name, but in actuality, you are sending from their shared IPs and domains; and that will always carry more risk than investing in a high-performance tool that is correctly implemented.
Branded Domains
Today's technology makes what seems like a super simple task of setting up and sending an email, quite intricate. When you send an email, that content, hyperlink, image, subject line, text, and everything else involved in the email gets sent through various ISP filters, and in order to end up in an inbox, the message and everything in it, needs to pass through them. Securing the sending domain used to send emails with a certificate and working with your IT team to make the internal changes necessary, is an early step to seeing significant results from your purchase, and it is a huge differentiator between the two levels of email tools.
One of the best ways to be marked as unsafe and/or end up on reputation blacklists is to repeatedly send out emails without any sort of indication you are a safe sender and own the domain being used. Investing in a tool that has a process to configuring those steps prevents those possibilities before your first email even leaves the canvas.
Similar to IP Address sharing, a smaller tool is not capable of installing a certificate to secure a sending or image domain. While optional, purchasing a simple certificate for often times less than $150/year proves ownership of your domain and marks each link as safe, filtering it into inboxes rather than Junk mail, which means your intended audience is receiving your marketing communications.
Reason 2: Enhanced Capabilities and Concise Targeting
When you read Reason #1 (if you haven't you should go do that now, I wrote about how the difference a tool, like Oracle Eloqua, can make when you invest the time and money, to properly set them up. The first step toward realizing a significant improvement in the efficacy of your email tool is to optimize deliverability. Let's go over some of the significant distinctions in campaign building and segmentation once you've completed the first stages and are ready to see some substantial ROI.
Eloqua Campaign Canvas
Since I spend most of the time using Oracle Eloqua, let's look at that as an example. Another discrepancy between the bigger and smaller players is what is available to the marketer when constructing a campaign. Below you see an image of the options available. On the left, one of the smaller scale ESPS vs on the right, what is available in Eloqua (and this is without many of the other add-ons available). The company on the left is more than capable of setting up the campaign and sending the emails, but the Eloqua Canvas can separate contacts and narrow down who receives what message on additional level.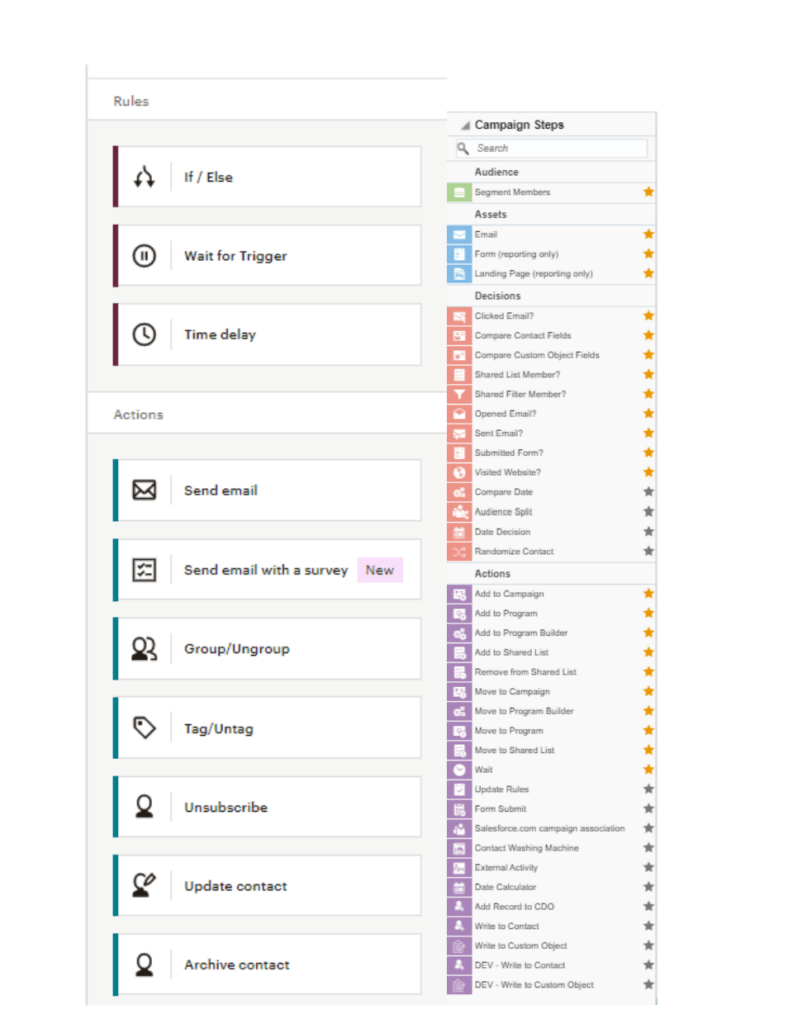 As seen above, there are multiple options available in Eloqua you cannot see in the other tool, but there are three key components I want to highlight, that set this product well apart from the others.
Shared Filters: These are live filters using specific criteria that defines contact behavior. For example, I can create a filter to only send to a certain audience and then insert that audience into any campaign I choose. In addition, these filters are live so the contacts who meet those conditions will automatically end up in the filter. Another capability that is useful, is these filters can be used in your "Master Exclude", you can create a Shared filter to exclude all your employees using their business email domains for example. Alternatively, in smaller tools, you can filter using criteria and omit whoever you choose, but it is far more manual and cannot be done in bulk at nearly the same level.
Programs: Another distinct separation and a major ROI contributor is the ability to create Program, which is an automated flow that can setup to process specific steps after a certain action occurs. For example, after a new contact is uploaded into an instance, there is a Program with a Listener step that will automatically evaluate that email address for past contact activity. Depending on that activity, they are sent to a certain campaign, another program, or even your CRM database such as Salesforce.
Custom Data Objects: A Custom Data Object (CDO) is a contact table hosted in Eloqua that stores data for a contact record without cluttering the contact with an array of contact fields. When you create a CDO, you are linking certain attributes to a contact, but in the background. The best part is, you can use this information in the CDO within the campaign canvas, creating a specific group of criteria in one step, enabling you to really target your audience.
Insight Reporting
Naturally, when a system can do more work and offer more complex solutions, that will result in more complex reporting. True, but that ability to create detailed reports that show trends and activity that are not possible to track at a lower level, can make all the difference. Below you can see the Insight Reporting Dashboard in Eloqua.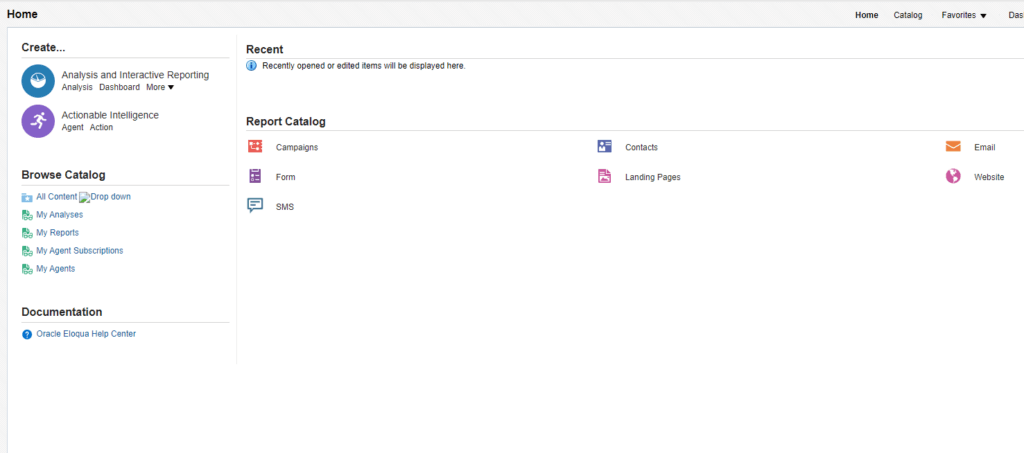 In this case, there is not a comparison for a smaller scale product. You can find opens, clicks, conversions, bounce rates, etc. without a hitch for all ESPs. More power though, creates more opportunity. In Insight, your team can customize reports, and export reporting based on certain links in the instance, or a specific email, they can track visits to external web pages; you can start to see how the capabilities are bountiful. Reporting is how a marketing team decides who to target and how, so it is a significant piece of why the investment is a smart one. Don't get caught sending emails just to send them. Send emails with a purpose and with a strategy, and the greater the tool, the more knowledge your team develops on what those should be.
Conclusion: There is an Opportunity Cost, But It's Worth It
Opportunity cost. The loss of potential gain from other alternatives when one alternative is chosen. One of the simplest concepts in economics also factors in when I advocate for spending the money on these tools. If I am a large corporation with 3 million contacts and sending several emails a day to a couple hundred thousand people, the cost of the tool and the cost of a small team to manage it, whether that be internally or externally, will usually be far less than the amount of people to achieve the same result. That's salaries, bonuses, benefits, 401k matching, etc. that are non-existent because I have invested in a product that can do the job of a larger team of employees. You will always need people to manage it, but not to the same extent.
No doubt, opting for an expensive Email Automation tool is a significant investment. Even with the examples I provided in Reason 1 & 2, we have still barely scratched the surface of what is available to you in a powerful tool like Oracle Eloqua., When evaluating the options, it's important to do your own research. Consider, for example, your company's target market, long-term goals, and messaging.
Both the B2B and B2C landscape have evolved perhaps more than ever before since the COVID-19 pandemic. For many of us, automation and smart spending is more prevalent than it has ever been in our careers. To survive, we as businesses and consumers must adapt. Technology is the future, so when contemplating a change to a more powerful tool, ask yourself this. Are you willing to invest in your company's future?
The following two tabs change content below.
Sr. Technology Consultant
at
Tegrita
Packy Jones is a Sr. Technology Consultant at Tegrita. Packy is a writer and content developer turned MarTech expert. He studied Communications & Media and began his career writing press releases and managing email efforts for a law firm and marketing agency. He was introduced to Oracle Eloqua as an automation tool and leaned into the MarTech space. Packy resides in South Florida and outside of work, is either golfing or playing hockey.
Latest posts by Packy Jones (see all)