Digital marketing success depends on a myriad of factors – one of which is email. Email marketing can be a highly effective medium to reach your target audience, but only if you do it right. In this article, we'll explore the role of email in successful digital marketing outcomes and offer efficient tips on how to make the most of it.
The Benefits of Email Marketing
Email marketing comes with a plethora of benefits; send direct messages to specific audience segments, build relationships with customers and prospects via hyper targeting, and free up time to focus on other areas of your business with email automation. And because email marketing is measured, you can track your return on investment (ROI). The most significant benefit of email marketing is leveraging it as a channel to drive pipeline size and velocity. Although velocity optimization often gets overlooked as a possible driver of revenue growth, it is highly effective when you do it correctly. You can also leverage insights gained from email to help inform your overall marketing communication strategy. An effective email marketing strategy compels buyers to act, leading to qualified and ready-to-engage opportunities.
Email Shouldn't Be Spammy or Irrelevant
Before diving into how you should use email, let's start with what not to do. Firstly, email is not the end-all solution. Email cannot solve all marketing challenges, and when leads or pipeline is low, the answer is never just to send more emails. Instead, you need to think about your target audience's needs and preferences, and develop effective, relevant content that will help you achieve your goals. Finding the right balance regarding the frequency of your email marketing campaigns is also crucial. Too many emails and your audience will feel bombarded; too few emails, and they may forget about your product or service. The success of email marketing is dependent on a happy medium that works for both you and your audience. Take time to reflect on the relevancy of your emails and how they're adding value to your recipients. Valuable content is key to building long-lasting relationships and building trust with your audience.
Defining Where to Use Email in the Communication Journey
Email is not an outdated method of communication; it is an indispensable tool in your marketing toolbox.
When defining the role of email in your business, start by considering: What other channels are you using? How can email complement those efforts? For example, if paid media is a critical component of your marketing strategy, you can employ email to follow up and nurture leads from your digital ads. Or if you're running multiple events, you can use email to drive traffic to your event pages and follow up with attendees for post-event insights.
When working with clients at Tegrita, we start by building out a Marketing Map of Influence. The map aligns all marketing-supported activities to the various stages in the buyer's journey, and defines a clear purpose and key metrics for each activity. During the mapping process, we set out the customer's communication journey to understand their needs at each stage. The goal is to create email content that meets those needs. Email is a powerful tool, but it's essential to use it wisely. By mapping the customer's journey and understanding their needs, we can create email campaigns that genuinely support the sales process and help you achieve your business goals. Marketing Influence Maps can take on different formats depending on your business, but below are the consistent components to the plan.
Communication Purpose: Every marketing communication needs to have a purpose. The five goals of purpose I consistently use across clients are to attract, introduce, inform, convert, and continue:
Attract: These activities are designed to drive interest and generate net new names to your marketing database.
Introduce: These activities include welcome campaigns and other activities to introduce your audience to your brand or the problem that your product/service solves.
Inform: These communications are designed to inform your audience of what you sell and convince them to consider making a change. The messaging in these initiatives shows a clear connection between the problem and your approach to solving it.
Convert: These initiatives are used to convert your target audience to qualified leads or opportunities (depending on your lead management structure).
Continue: There will always be a considerable part of your database that is not in an active buying cycle. Continuous communications are designed to keep your database engaged and your brand top of mind.
Initiatives & Tactics: All marketing-driven initiatives and tactics are included in the map. The activities included should span all marketing functions and any sales enablement activities.
Target Audience(s): Depending on your organization, you may identify the target audiences within the map or you may build separate maps by audience. Not all target audiences go through the same journey, so you need to account for this along the way.
Key Performance Indicators (KPIs): Measurements and targets are set based on the communication purpose. Specifically related to email marketing, you can expect different engagement and conversion rates from introduce campaigns than you would from convert campaigns. Although vanity metrics (i.e., opens and clicks) are tracked, KPIs need to tie back to business objectives and metrics.
As you complete your marketing map of influence, you can evaluate all tactics to determine the most valuable ones. Make this consideration at each phase of the journey, including thinking about what information your audience needs at each stage. For example, someone just starting to research a product or service will need different information than someone ready to make a purchase. The chosen tactics and the content of the communications should reflect this at each stage.
Keep Testing and Refining Your Email Strategy
Email marketing is constantly evolving, and what works today might not work tomorrow. That's why it's essential to test and refine your email marketing strategy continually. There is no one-size-fits-all solution, and businesses must experiment to see what works best for them. There are a few things you can test to improve your email marketing. First, consider the frequency of your emails. Are you sending too many? Not enough? Second, take a look at the subject lines you're using. Are they attention-grabbing? Memorable? Finally, think about the call-to-action in your emails. Is it clear what you want recipients to do? Is it easy for them to follow through on that action?
It can be helpful to A/B test different elements of your email campaigns to see what gets the best results. Try testing different frequencies, subject lines, calls-to-action, or the time of day you send your emails. Pay attention to your open rates, click-through rates, unsubscribe rates, and other metrics to see how each change affects your results. Feel free to experiment with your email marketing strategy and the role that email marketing plays. By continuously testing and refining your approach, you'll be able to find what works best for your business.
Getting started building your campaign map
Does your team have a documented strategy for how and when to use various tactics? If not, your next step is to develop your Marketing Map of Influence. The illustration below provides a starting point for how to organize your map. Note this example only shows a few tactics per section and does not depict a completed map. Many businesses benefit from having a 3rd party strategist to facilitate the mapping process. If you need assistance with your email marketing strategy, we are happy to help. Feel free to reach out to the Tegrita team and mention that you read this article. Happy email strategizing!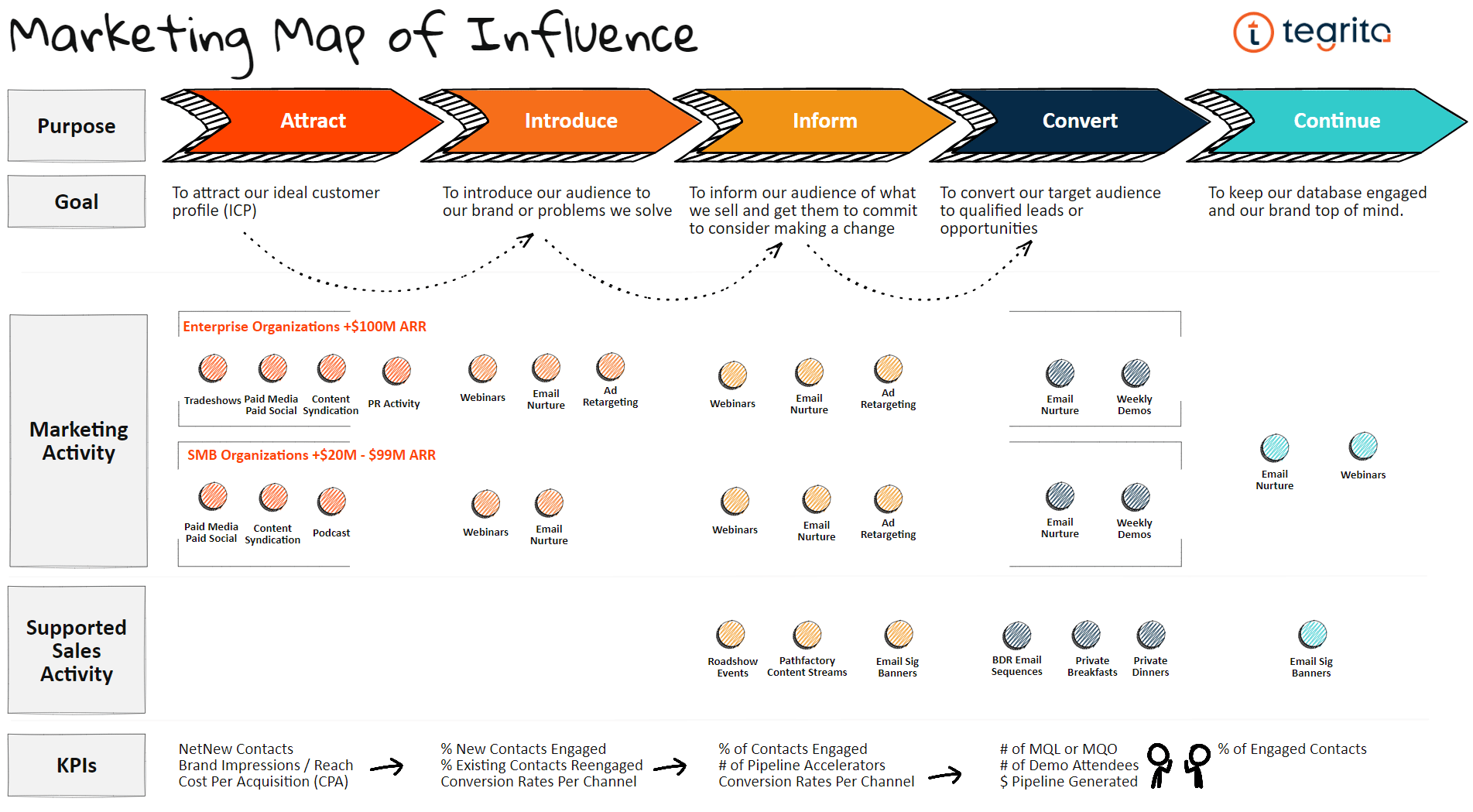 The following two tabs change content below.
Chief Operating Officer | Managing Consultant
at
Tegrita
Brandi Starr is a true Modern Marketing Maven; she believes marketing magic happens at the intersection of strategy, creativity, and technology. As Chief Operating Officer at Tegrita Brandi helps companies of varying sizes to attract, convert, close, and retain customers using technology. Brandi is the Co-Author of CMO to CRO, The Revenue Takeover by The Next Generation Executive and the host of the Revenue Rehab podcast.
Latest posts by Brandi Starr (see all)