This 6-part blog series provides a step-by-step guide to help you through the process of conducting a Martech Stack Assessment. In this instalment, Andy Shaw provides guidance, tips, and tools to kick-off the process by first helping you identify all the components of your digital stack.
In the first post of the series, Jason shared key reasons why a marketing technology assessment is important. Now that you know why an assessment is important, how do you proceed?
The first step is to determine what marketing technologies you have in your stack. You can't understand and assess the value of a technology that you aren't aware you have. To get you started, we created a martech assessment worksheet to help you catalog the different technologies. You will also use this spreadsheet in subsequent steps.
How do you determine what's part of your marketing technology stack? I find that sometimes, the simplest question is the most revealing, which is, "Is the primary purpose of the tool to help you meet your marketing goals?" If so, it should be considered part of the stack.
To help you build your list, here are some common types of marketing tools:
Marketing Automation 

or

 Email Marketing Platforms:

 Eloqua, Responsys, Constant Contact, Mail Chimp, Pardot or Marketo are common examples of these tools.  Most of these platforms help users manage their email campaigns, track customer interactions, and have many other functions.  

Content management system:

 WordPress, Microsoft Dynamics, and Adobe Experience Manager enable you to create and manage content on your website including its design, content, graphics, and even code.  

Content experience

: UberFlip, Vidyard and PathFactory help you manage and host interactive content like videos and white papers while tracking engagement at a deep level.

Workflow management

: MavenLink, WorkFront, and Workamajig help marketing teams organize and streamline their processes and manage tasks.  

Social media marketing: 

HootSuite and Edgar, help you manage and promote social content, while tracking response to find out what works best.

Business Intelligence (BI)

: Tableau, Strala, and SiSense help you measure the performance of your marketing campaigns and drive deeper understanding of your customers from acquisition to loyalty.  

Search Engine Optimization

: Moz and Ahrefs help you maximize traffic to your site from potential customers who are searching for products or services like yours.

Online Advertising 

products such as AdRoll and Google's DoubleClick help your team manage the placement and content of online ads, making sure your ads gets in front of the right people at the most advantageous time.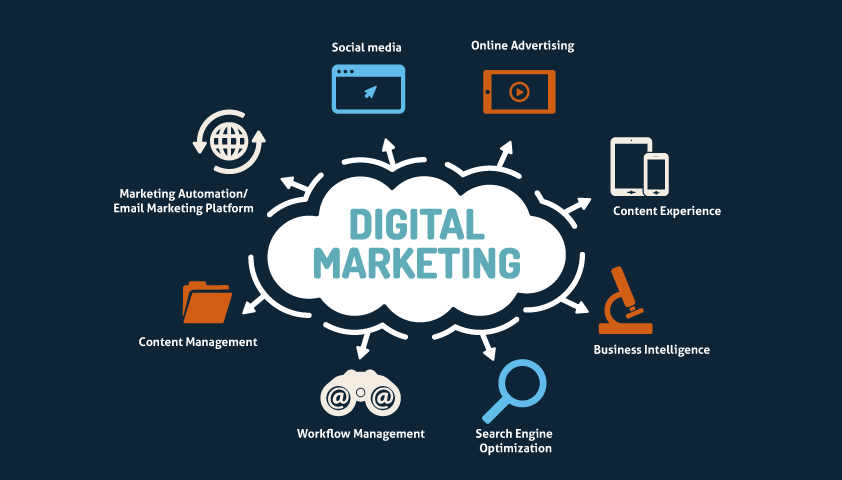 While you assess your marketing technology stack, you should consider including the tools that are dedicated to your sales team. While they are designed for, and used primarily by, the sales team, they are definitely relevant to your marketing stack. A good integration between marketing and sales technologies is critical. Marketing provides leads that flow into the sales pipeline, and marketing campaign activity and responses may be used to trigger sales actions such as a call or a personal email. Similarly, interactions that occur in the sales pipeline may influence the content that marketing delivers to prospects and customers. Here are a few examples of the types of sales technology you should be thinking about.
Customer Relationship Management

(CRM): Salesforce, Oracle CRMs, and NetSuite are probably the first options that come to mind when you think of sales technology. These comprehensive tools help sales teams manage their pipelines and keep track of leads, opportunities, and accounts.

Content Enablement and Sharing:

Prezi, SlideShare, or KinetiCast make it easy for sales teams to deliver content that has been tailored to different types of prospects and different stages of the pipeline.  

Sales Emailer and Dialer:

Oracle Engage, Noble Systems, or TalkDesk help sales teams reach out to the right prospects with the right content at exactly the right time.
These are just a few examples of technologies that your marketing and sales teams may be using. If you're not sure, go back to the key question and start over.
Now that you have a list, the next step is to detail the components in your marketing technology stack. We recommend that you build the list as a group task. To make best use of everyone's time, start by putting together a "straw man" list of the marketing technologies you are aware of, then pull together the folks who are hands-on with marketing tools, put them in a room for an hour, and review your list. Use the worksheet to guide you through the process. For each component in the martech stack, provide the following information:
Name and vendor

Function: What marketing function does the tool provide? What goal does it help you fulfill?

Internal Owner: Who is responsible for maintaining and configuring the tool?  

Key Users: Who are the most important day-to-day users?

Notes: Other notes that you think relevant.
Going through this exercise as a team is the first step in evaluating your martech stack.
In our next blog post, It's All About Connections, we'll look at the way in which the various components of your martech stack talk to each other. What data is passed? What processes are triggered? How do the various components help each other succeed? Answering these questions is a key part of assessing your martech stack. We'll give you the tools you need to characterize the integration and set yourself up for a successful martech stack assessment.  
Top Tips for your Martech Assessment Meetings:
Set the stage for successful meetings by defining a few project parameters in advance:
Ask everyone to clear their calendars and leave their phones & computers behind. Bring in coffee, water, and even snacks to keep everyone's attention focused on being productive.

Be sure to frame the meetings as collaborative brainstorming – something fun and interesting that will allow everyone to express their thoughts.

Make it clear that there are no bad ideas.

Have people do their research in advance.

Let everyone know this is their chance to contribute to the betterment of both their roles AND the future of the company. Making this clear from the onset will often

put participants in a more positive and collaborative mindset

, allowing the best ideas to be presented by the team.

Be prepared to let conversations flow naturally but be sure to steer the conversation away from any negativity which may arise (turn complaints into challenges for the team to solve).

In many cases, having an impartial third-party help moderate the discussions is an invaluable asset. Consider a manager from another department, someone from HR, or hiring an experienced consultant to assist. We can help you!
Once the meeting begins, reinforce the project parameters above. Now that you're ready to assess, start talking and fill out that workbook with all the necessary details. When you're done, you will be ready to move to the next step!
Martech Stack Assessment Blog Series;
The following two tabs change content below.
Andy Shaw
Lead Technology Consultant
at
Tegrita
Andy is a Lead Technology Consultant at Tegrita with over twenty years of experience in marketing automation and software product management. He is an Eloqua Implementation Specialist, and focuses on using technology to find practical solutions to customer needs. Andy has a bachelor's degree from Princeton University and an MBA from UCLA's Anderson School.
Latest posts by Andy Shaw (see all)